Create simple and fast virtual email with Nada Temp Mail - Knowledge sharing blog
Note: Please read the article carefully before proceeding! If in the process of using you encounter any errors, such as broken download links, slow loading blog, or unable to access a certain page on the blog ... then please inform me here. Thanks!
Virtual email probably is no longer a strange concept for you anymore, isn't it, virtual email is used a lot because it can help you sign up for a service quickly and save time to create. than Outlook Mail, Google Mail and most importantly, can protect your real email from spam and advertising.
Creating virtual mail is also very simple now, when there are many websites created to do this, such as yopmail.com, mail10p, etc. And in the previous article, the Admin shared with you the 13 most effective virtual email creation websites today, you can read that article again.
In this article, I will continue to introduce you a service that allows you to create another virtual mail named Nada Temp Mail.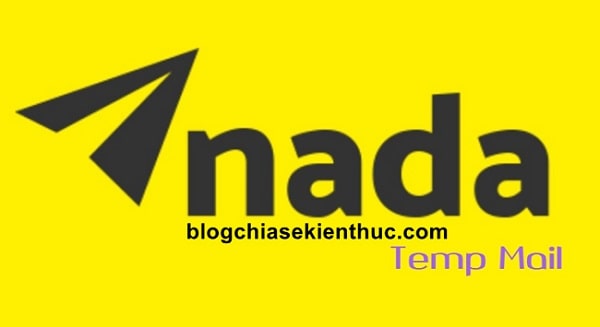 Read more:
I. How to create virtual emails with Nada Temp Mail
First I will introduce to you about some advantages of the Nada Temp Mail service!
Temp Mail is a service of Nada, it has the salient features that I would like to introduce to you:
No advertising.
Very easy to use interface.
Optional names and domain names for virtual mail => This is extremely interesting and useful.
Lets you manage, read and download attachments.
Support on 3 browsing platforms that are Google Chrome, Web and Android applications.
#first. Use on the Web
To use Nada Temp Mail, first visit the Temp Mail homepage (https://getnada.com) => and you will immediately receive a virtual email with the form ***@getnada.com
For example, in my picture it will be [email protected] - You can click the copy icon on the right to copy your email address and start using it to register your online account or online service.

As you can see, since it's a shared mail, the mail you use may have messages from other users before - that's obvious and you don't need to worry about it 🙂 because we Also use virtual email for virtual accounts only :))
Or After using it, if you feel unsafe, you can delete emails in your inbox and go, by clicking the trash icon next to the header of the message you want to delete.
You can use multiple emails at the same time on Nada, to add a new email you click Add Inbox as shown below.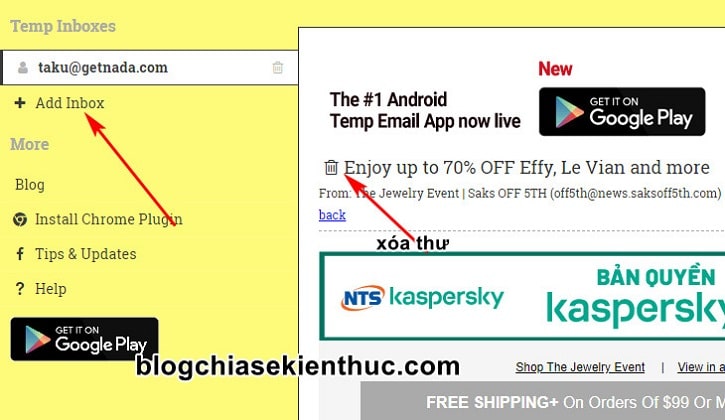 You will be free to choose your username along with the email domain name provided by Nada dropjar.com, abyssmail.com, givmail.com… => then press ACCEPT is done.
And note that if you get the same username, you can share and view their mail too! So don't name it too common to avoid having to share it and be seen by other people!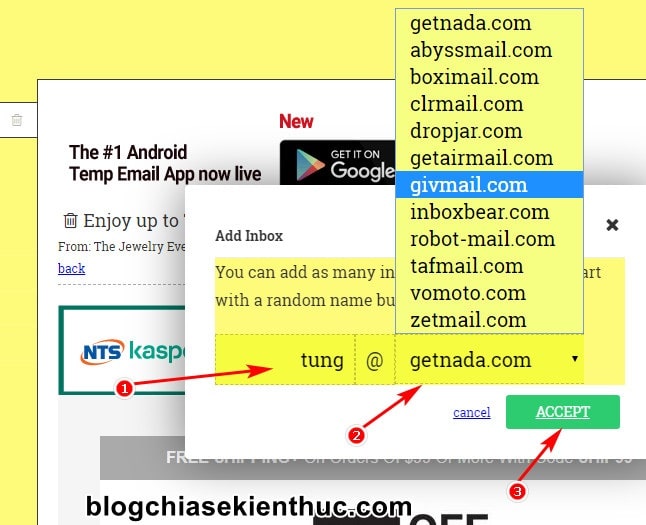 And if you don't want to use any added email, just click the trash icon to the right of that Email. Or more simply ignore it 😀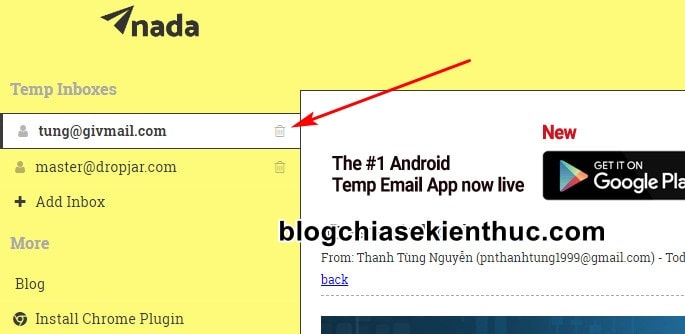 #2. Use extensions to use Virtual Email more conveniently
In addition to using Email directly on their Web site, Nada also supports extensions on Chrome for us to use more convenient, and of course you can use it for other Chromium browsers as well. .
Just like the web version, this utility is completely free, you can install it quickly by click here => press Thêm vào Chrome to install it for your browser.

After installing, you only need to click on the Nada icon, you will have a virtual mail address immediately, but unfortunately, when using the utility, you will not be able to choose your Mail address.
However, you can change a different email address by clicking the button:
CHANGE: The system will random you a new email address.
COPY: To copy the currently displayed email address if you cannot remember it.
OPEN: To open the inbox of the mail address currently displayed in the widget.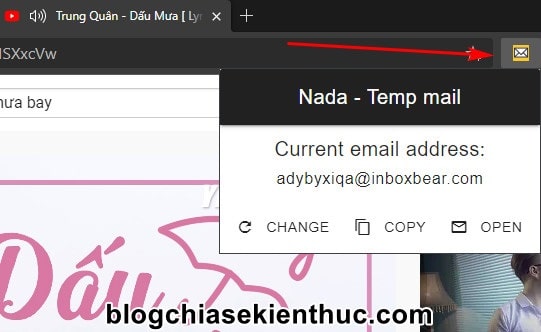 => Very simple and convenient is not it 😀
II. Epilogue
Above is a detailed tutorial on how to Use Nada Temp Mail's virtual mail service It's completely free.
I find this is a pretty good free email service, guys, when you can freely choose your email address and use unlimited mail at the same time, moreover, it supports open utilities. Wide should be very convenient to use.
Hope it will be helpful for you. Good luck !
CTV: Nguyen Thanh Tung - Blogchiasekienthuc.com
Note: Was this article helpful to you? Do not forget to rate the article, like and share it with your friends and relatives!