Fix LAN connection error between Windows 10 and Windows 7 / XP - Blog sharing knowledge
Note: Please read the article carefully before proceeding! If in the process of using you encounter any errors, such as broken download links, slow loading blog, or unable to access a certain page on the blog ... then please inform me here. Thanks!
Yes, on my blog, I have shared a lot of instructions on connecting computers on the same LAN, printer sharing on the same LAN already.
However, we may not always be able to go smoothly, simply because each computer is different, if you use the original Microsoft installation, the error may be less. If you use the Ghost version of multiple configurations shared on the network, the errors related to LAN will be more.
Some great articles about LANs that you should read:
#first. Define the reason
Today I encountered an error connecting the LAN between Windows 10 and Windows XP. Must search, find a way to fix a new recovery.
Because Windows XP is obsolete and no longer supported by Microsoft, it is unavoidable to make a corrupted connection.
Okay, and the following is the error I encountered:
You can't connect to the file share because that's not secure. This share requires the obsolete SMB1 protocol, which is unsafe and could expose your system to attack. Your system requires SMB2 or higher "

Translated into Vietnamese: You cannot connect to file sharing because it is not secure. This share requires the outdated, insecure SMB1 protocol and can expose your system to attack. Your system requires SMB2 or higher.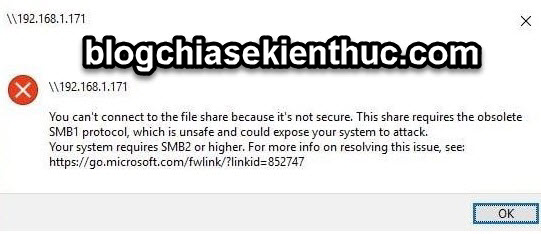 As you know, in 2017, Ransomware WannaCry blackmail virus attacked computers via the protocol. SMB 1. Therefore, many machines have turned this protocol off.
If want Win 10 and Win XP to connect with each other, we must commonly use this protocol. So the reason is clear, we just need to re-enable this protocol on Windows 10 and it's OK.
#2. How to connect a Windows 10 LAN to Windows XP?
Simply, do the following steps in Windows 10 to re-enable the SMB 1 protocol:
Perform:
+ Step 1: Open the Run dialog box (Windows + R) => enter the command control => and press Enter. Here you choose is Uninstall a program.

+ Step 2: Next, click Turn Windows features on or off => then check the box SMB1.0/CIFS Client and SMB1.0/CIFS Server => then select OK is done.

+ Step 3: Now restart Windows 10 and try connecting again to see if it is okay
# 3. Epilogue
So I just showed you how fixes LAN connection between Windows 10 and Windows XP, Windows 7 already.
Hopefully this article will be useful to you, in addition to the above, if there is any other way to overcome success, please share it again for you to learn.
Thank you!
Kien Nguyen - Blogchiasekienthuc.com
Note: Was this article helpful to you? Do not forget to rate the article, like and share it with your friends and relatives!